Client Services Specialist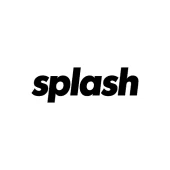 Splash
Customer Service
Remote · New Carlisle, IN, USA
Posted on Saturday, November 18, 2023
Splash's mission is to develop the most innovative event technology on the planet to help marketers reach and engage their target audiences. From simplifying event asset creation to capturing attendee insights and measuring event impact, Splash enables marketers to efficiently scale event programs and connect event-driven engagement to business results. More than half of the Fortune 500 use Splash to streamline event marketing execution and optimize performance.
What we're looking for 🔎
The Splash Professional Services team helps the world's best brands solve their scaled event marketing challenges by utilizing our software to provide workflow, flexible creative, powerful integrations and reporting with meaningful insights in regards to their event marketing operations and strategies. You'll become an expert Splash user while developing a deep understanding of event marketing program execution and analytics.
As a Client Services Sepcialist, your problem solving, interpersonal, and analytical abilities will be deployed and developed daily as you work side-by-side with colleagues in a close-knit team and the strongest event marketers in the business. This role is very much hands-on, and the Client Services Specialist is expected to take initiative, understand business objectives of an engagement, manage client expectations and manage tasks to completion.
You will ensure that every client derives the most value possible from their Splash platform implementation. This role will support a dedicated customer with their ongoing platform needs through best practice recommendations and platform configurations.
In this role, you'll get to…
Responsible for managing several, high-profile accounts; acting as day-to-day contact for brand stakeholders
Provide customer specific configuration for Splash products:

Provide consulting services to Splash customers on how to configure Splash products to achieve a customer's desired use cases
Management of all aspects of the event lifecycle that utilize Splash
Coordination with customer(s) event managers and other business units to implement brand specific events and activities.
Responsible for executing setup, customization, implementation, and testing of event pre-registration websites and on-site application, including content, and functionality as outlined in the event requirements.
Providing guidance and recommendations on event workflows
Assist with standard event page design/maintenance
Coordination of all touchpoints: landing page and viewports, form, emails, virtual event page, sharecard, etc
Strategic advice on event program design and any additional services and support
Full testing of pre-registration pages prior to event go-live. Event team approval is required prior to go-live.
Scheduled meetings and check-ins, as needed
Develop tools, processes and best practices to ensure customers are realizing the greatest possible value from Splash
Provide on-going training support and ad hoc training sessions to ensure that all client users are trained, educated, and up to date on platform use, best practices, and functionalities.

Work alongside customer to gather requirements, design, and implement program and event management within the Splash platform
Walking end-users through best practices, providing guidance and recommendations on event workflows
Strategic advice on event structure and any additional services and support
Trusted Services Specialist to hand-hold new and returning users through development and execution of Splash events
In-depth understanding and support on customer event create flow, customer event policies and requirements
Understanding the available solutions with the current service offerings vs. what would need to be a custom solution - facilitation on scoping when custom solutions are required
Perform discovery work sessions to determine the solution requirements, including mock-ups, flow diagrams, etc.
Serve as the Splash subject matter expert (SME) on Splash product capabilities
Qualifications:
3+ years of work experience in a client-facing professional services/consulting role; prior experience in event marketing and SaaS service delivery preferred
Demonstrated ability to present solutions to clients, manage client expectations, and implement and deliver solutions
Strong communication skills (written, verbal, presentation), with the ability to explain technical subjects to non-technical end user personnel in large enterprises
Hands-on working experience in the configuration, customization, and implementation of SaaS applications
Excellent problem-solving ability
Deadline-driven
What we offer and other fun stuff!
We're taking a new and improved approach to compensation and the way we #takecare of our Splashers. An approach that makes a lot more sense in this remote world we live in and looking toward the future of work. You can read more here. In a nutshell, we offer…
💰 Competitive base salary and stock options. Our success is your success 📈
💻 Brand new MacBook Pro / Linux and monthly stipend for work-from-home expenses.
🏥 Great healthcare benefits, with paid coverage for you and your family
🌴 Plenty of vacation days, with Splash-specific days off and 2 extra Mental Escape (M.E.) days per month to unplug from work
🗺 Remote first organization
A bunch of other great perks/benefits that would make this description too long if we included it 😉
It doesn't stop there! Although we're a remote company, we understand the importance of in-person connection. 🛫 We have a yearly company offsite and fun events with the rest of your team and the company.
What's next?
If you're interested in joining the team, apply below and you can expect to hear from us soon 🙂. Please give us at least 2 weeks to get back to you, as it takes a little TLC to review applications and see if there's a possible fit for you here. It just takes a little TLC to go through all the applications and see if there's a possible fit for you here.
When we find the right person, we try to put our best foot forward with an offer that excites you. We consider what you are looking for, the skills and experience you bring, what similar jobs pay and make sure there's fair pay among those you'll be working with. The base compensation amount for this role is targeted at $60,000 - $75,000 for those who are located in the United States. In addition to your cash compensation, every full-time employee will be able to participate in our employee equity program. Final offer amounts are determined by multiple factors including your experience and expertise and may vary from the amounts listed above. What we can't quantify for you are all the exciting challenges, supportive team, and amazing culture we enjoy. Please click here to gain invaluable insights from our Splash Culture Book.
At Splash, we believe that big ideas and great communities come from a team that celebrates diversity of all kinds. We are committed to being an equal opportunity workplace and encourage people from all backgrounds to apply.
We collect personal information (PI) from you in connection with your application for employment with Splash, including the following categories of PI: identifiers, 8 personal records, 9 commercial information, 10 professional or employment information, 11 non-public education records 12 and inferences drawn from your PI. 1314 We collect your PI for our purposes, including performing services and operations related to your potential employment. For additional details or if you have questions, contact us at [privacy@Splashthat.com].