Direct Response Copywriter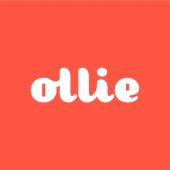 Ollie
Marketing & Communications
Remote
Posted on Saturday, August 12, 2023
Ollie was born with the mission of improving the lives of pets and pet parents nationwide. We make human-grade pet food, tailored for each dog's nutritional needs, and deliver directly to our customers' doors. Through Ollie's carefully crafted meals and health services for members, dogs can truly live their healthiest, happiest lives.
As a member of our growing team, you'll take part in a company culture that cares deeply about its work and its team members.
As a Direct Response Copywriter at Ollie, you will work under the Senior Copywriter to help convert prospects into loyal Ollie members by blending our brand voice with direct response best practices. From social content to technical product writing, you will assist in developing compelling and persuasive written content that aligns with Ollie's brand voice. You will work closely with the Senior Copywriter and creative team to create content for various marketing channels and campaigns. Armed with creativity and straightforward, conversion-driving language, you're passionate about Ollie's potential to improve the well-being of pets everywhere. Your words will inform and engage our target audiences, and success in this role will be vital to Ollie's growth.
This role is a U.S. based remote and will report directly to the Senior Copywriter.
Responsibilities:
Assist in creating copy that compels pet parents to become lifelong members of the Ollie Pack. Must be comfortable and confident in writing clear and concise content that highlights Ollie's product and experience benefit to prospects.
Write copy that incites action–your primary goal is to motivate our target audience to sign up for an Ollie subscription.
Churn out engaging, high-quality, compelling creative, including captivating content for our social channels, marketing campaigns, website pages, and physical marketing materials.
Understand the art of writing attention-grabbing headlines, weaving product benefits into simple, direct copy.
Predict and persuasively address any barriers or objections that may be holding our prospects back from trying Ollie for their pup.
Collaborate with the senior copywriter, graphic designers, and marketing team to understand project briefs, target audiences, and objectives to translate them into compelling and conversion-driving written communication.
Stay up to date on industry trends, competitors, and target audiences to create informative content that resonates with Ollie's customers.
Collaborate with the design team to ensure copy maintains consistency across marketing materials.
Proofread and edit content to ensure accuracy, grammar, and brand guideline consistency.
Take on multiple projects simultaneously and prioritize tasks to meet deadlines in a fast paced environment.
Preferred Experience:
Experience in high-output direct response copywriting at a growing company.
Obsessed with details and able to adapt your writing style to all business needs.
Degree in english, journalism, marketing, or related field.
Strong research skills and ability to gather information
Exceptional writing skills, attention to detail, and ability to proofread and edit own work.
Ability to work collaboratively and take constructive feedback from the senior copywriter.
Effective communication skills.
Ability to take on multiple projects and prioritize deadlines.
Benefits:
Competitive salary and a stake in the company
Sponsored 401k program with employer match up to 4%
Comprehensive health coverage including medical, dental and vision
Unlimited vacation policy that you're encouraged to use
Paid parental leave
1-week paw-ternity leave for new dog parents
Free Ollie subscription
Inspiring pack members!
If you'd like to stand out, tell us in your cover letter why you're interested in joining Ollie and how your skills match the responsibilities detailed in this posting.
Ollie embraces diversity and equal opportunity. We're committed to building a team that represents a variety of backgrounds, perspectives, and skills. Ollie is an equal opportunity employer and does not discriminate on the basis of race, national origin, gender, gender identity, sexual orientation, protected veteran status, disability, age, or other legally protected status. For individuals with disabilities who would like to request an accommodation, please include that in your application.